Plate #26 Badlands National Park, South Dakota,Mary Heebner, 1999
Every artist would love to have work and life woven into one fabric, and a few of them make it work. It is even rarer to share that artistic life with a partner whose own art is part of the pattern. Mary Heebner and Macduff Everton have reached that level of partnership, and two of the tangible results are the book, "Western Horizon, " and a documentary film about the making of it.
Everton's panoramic photographs of the American West (also on view at the Santa Barbara Museum of Art) are enhanced by Heebner's poetic descriptions of the landscape and her drawings and watercolors inspired by the places in the book.
The Santa Barbara-based husband-and-wife team talks about how it all came about in "Full Circle, How Macduff Everton and Mary Heebner Came to Make the Western Horizon," a 30-minute film by Santa Barbara writer Russ Spencer, which will be screened during the 16th annual Santa Barbara International Film Festival.
The film is a love story and a chronicle of artistic collaboration, says Spencer. "It shows the love they bring to both their work and their life together."
Both artists started out independent and determined. While he was doing the groundwork to become established as a photographer, Everton worked as a cowboy and a river rafting guide, jobs which kept him in the wild landscapes he loved and photographed. Later he spent years, off and on, in the Yucatan to produce a book about the lifestyle of the modern Maya. Today he travels the world on assignment for magazines, among them National Geographic and Conde Nast Traveler.
Heebner, a painter who once lived in her car to keep herself and her art alive, has worked out of her studio on Santa Barbara Street for 20 years. Her work has been widely exhibited both locally and nationally and she recently melded her painting and writing into handmade books.
In the 1980s, their friends in the local art community encouraged Heebner and Everton to get acquainted. In the film, Macduff admits that when he first met Heebner, he said to himself, "Here's the person I could live with for the rest of my life."
But for her, it was not love at first sight. In fact, every time he called to ask her out, she turned him down. Then, one day in 1988, she called him. She wanted to go to Mexico for the first time and she knew that it was familiar territory for him. In the film, Everton recalls that she said something like, "I want to see Mexico, but I'm not interested in you."
He accepted the invitation, pretending that he had been planning to go there anyway. As they traveled, Everton says, "I was able to show her what I loved (Yucatan)." And they fell in love.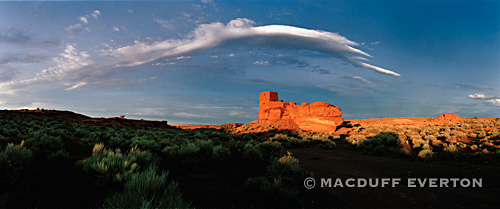 Wupatki National Monument, Arizona by Macduff Everton, 1999
Spencer's film focuses on another, more recent trip. When Everton was negotiating with his publisher, Abrams, about the "Western Horizon" book, he was asked to find a writer. He suggested Heebner. She gave them some sample writing, and she was on.
She felt that she needed to go to all the places Everton had photographed for the book -- "to smell it and feel it" -- to write about it, she says in the film.
The four-month trip throughout the West was as productive for Everton as it was for Heebner, and on this, his second journey to these places, he took many of the photographs that ended up in the book. Heebner wrote about each place in a succinct yet poetic way and, being a painter, sketched and painted watercolor impressions of each place for her own notebook. Many of these are also found in the book.
"Western Horizon," which was published last fall, was the inspiration for Spencer's film. "I'd been wanting to meet Macduff, but he always seemed to be on the road," Spencer said in a recent telephone interview.
Right after the book came out, Spencer made an appointment with Everton and, Spencer said, "The more I talked to him, I knew I'd hit the mother lode. Then Mary came in and talked about how they met, and I was sure."
Spencer was so inspired that he suggested to the Santa Barbara Museum of Art that they hire him to do a film.
The film showcases both artists' powerful use of light and color, as well as their intuitive sense of place.
Working with Heebner and Everton was a pleasure, Spencer said. "They put no rules on me at all, but they were plenty nervous on the day of the screening. Everyone came into the room looking grim and worried."

But they came out smiling, he added. The film has been screening in conjunction with the museum exhibition and there were so many requests for it that the museum store now sells it.

The film ends with narration over a scene of Heebner and Everton sitting on a couch laughing, at first a little, then heartily. The viewer never knows what they were laughing about. Spencer told me what it was, but the moment is so rich without knowing, it's best to leave it that way. But, if you must know, you'll have an opportunity to pursue this in a question-and-answer session following the screening.

"When they're apart, each is intense and serious," Spencer noted, "but when they're together, they're light."

("Full Circle, How Macduff Everton and Mary Heebner Came to Make 'Western Horizon'" will be screened at 2:30 p.m. Thursday at Victoria Hall, 33 W. Victoria St., as part of the 16th annual Santa Barbara International Film Festival. A question-and-answer session with Spencer, Heebner and Everton will follow. For more information, call 963-0023 or go to www.sbfilmfestival.org on the Web.)

Pictures from the Western Horizon by Macduff Everton and sketches by Mary Heebner will be on display
from March 10- April 21, 2001at
Rose Gallery in the Bergamot Station Arts Center
2525 Michigan Ave. D-3, Santa Monica, CA 90404
310-264-8440
e-mail rose.gallery@gte.net
website: www.rosegallery.net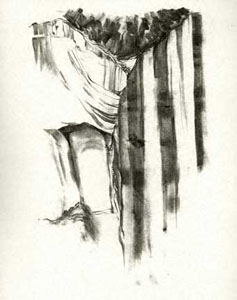 Plate 74 Calf Creek Canyon "Desert Varnish"
Mary Heebner, 1999